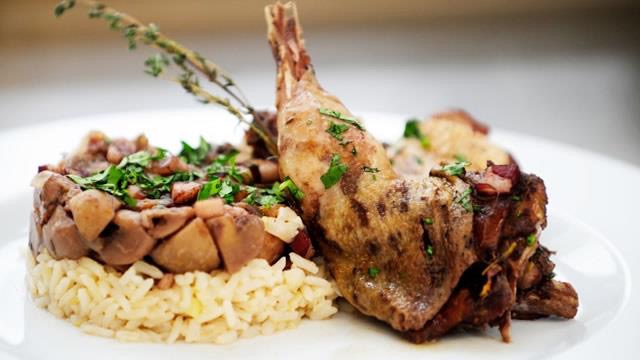 12 Oct

Great food match

We know this isn't a food website but sometimes we come across a recipe which is a perfect match for our wines and this is one of those occasions. So we thought we'd share it.

This is particularly good with our Gran Reserva Cabernet Sauvignon and it uses pheasant which if a very often overlooked meat.

Pheasant with rice and mushrooms

1 pheasant
400g white rice
1 sprig of tarragon
400g mushrooms
I tin of chopped tomatoes
1 bouquet garni
100g chopped shallots
1 cup stock
50g butter
2 cups of dry white wine
2 tbsp flour
1 tbsp oil

Preheat the oven to gas mark 6 (180 ° C).
Cut the pheasant into 8 pieces. Chop
tarragon. In a pan put oil and butter.

Fry the pheasant pieces in an ovenproof dish. When browned, remove them. In the pan, fry the mushrooms into pieces. Add the shallots.

When everything is a little browned, sprinkle with flour, wet with white wine and stock. Add the bouquet garni, tomatoes and tarragon. Return pheasant to the pan. Season with salt and pepper, cover and bake 20-30 minutes.

Cook rice as directed on the packet. At the last minute, using a cookie cutter plate rice and some mushrooms. Arrange the pieces of pheasant, and add the remaining mushrooms.

Then don't forget to serve with a glass of red wine, preferably one of ours. Cheers.